National Helpline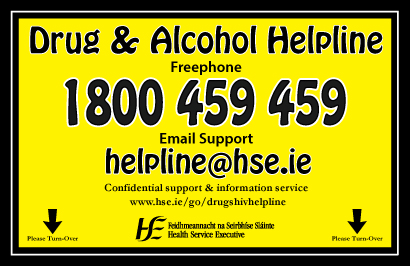 HSE Drugs & Alcohol Helpline
This confidential service has both a freephone Helpline (1800 459 459) and an email support service (helpline@hse.ie).
The HSE Drugs & Alcohol Helpline provides support, information, guidance and referral to anyone with a question or concern related to drug and alcohol use and/or HIV and sexual health. The service is non-judgemental and offers space to talk about your situation, to explore some options and to consider your needs. During calls/ emails, staff refer to a database of over 400 services nationwide.
Opening hours are Monday to Friday, 9.30am and 5.30pm.
If you have any questions about our service, feel free to get in touch.
For more information about the helpline visit www.hse.ie/go/drugshivhelpline or www.facebook.com/drugsalcoholandhivhelpline
Additional Information