Naloxone

What is Naloxone?
Naloxone (pronounced na-LOX-own) is a prescription medication used to temporarily reverse the effects of opioid drugs (for example heroin, morphine, codeine, methadone and fentanyl) if someone experiences an overdose.
Naloxone can help to keep a person alive until an ambulance arrives.
Naloxone works by displacing opioid molecules from their receptors in the body and brain.
There are two types of Naloxone available in Ireland
Intramuscular Naloxone (brand name Prenoxad™)
A pre-filled syringe and needle which once assembled is injected into the middle outer thigh
Each pack is for SINGLE INDIVIDUAL USE only
5 doses of 0.4mg per dose
Intranasal Naloxone (brand name Nyxoid™)
A needle-free device that requires no assembly
Each pack contains 2 nasal sprays
If both doses are required they are sprayed into alternate nostrils
Each nasal spray is for SINGLE INDIVIDUAL USE only
1.8mg per dose
Signs of an opioid overdose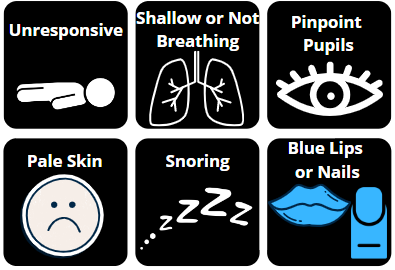 Naloxone and Covid-19
Please be advised to follow the latest HSE infection prevention and control guidelines regarding the use of appropriate personal protective equipment (PPE) at the time of supporting someone experiencing overdose remains an important mitigation.
From the 1st of June 2023 if the person is not breathing and the person responding is comfortable providing rescue breaths the CPR response can revert to pre-covid guidelines of administering chest compressions and rescue breaths. Responders can continue to provide compression-only CPR after the 1st of June 2023 where they consider there to be a risk, or they are not comfortable providing rescue breaths.
​
How to respond to an opioid overdose
If someone is showing signs of an overdose call 112 or 999 for an ambulance without delay
Check if they are breathing
If they are NOT breathing start CPR
If they are breathing put them into the recovery position
Administer Naloxone and continue CPR (if the person is NOT breathing)
Administer further doses of naloxone as required
Wait with them until the ambulance arrives
How to move a person into the recovery position
How to carry out chest compressions

Further Naloxone Resources
Download a Step by Step guide How to administer Naloxone here
Video Resources
Get video resources on our site here
Further Information