Alcohol
The disruption we are all facing in our lives at the moment can be difficult to cope with and can leave us feeling powerless, lonely, stressed and bored.
Our emotions and moods are up and down more than normal.
Dealing with all of this and being at home all the time, means some people are drinking more than they usually would within their homes.
Here are some reasons you might like to cut back on your alcohol intake right now:
We may reach for alcohol in times of stress or worry, but alcohol has a negative impact on mental health and can make stressful times feel even worse.
When we drink too much, we can be less aware or diligent about following the physical distancing and hygiene advice which protects us from coronavirus.
Alcohol negatively affects the quality of our sleep, making it even harder to cope in stressful times.
Alcohol can make our immune system less effective, impacting its ability to fight off viruses.
Taking a break or cutting down on alcohol has many health benefits.
Problem drinking can cause mental health symptoms such as anxiety, depression, concentration problems, and personality changes and have negative effects on those we live with.
Reducing Alcohol-related Harm During COVID-19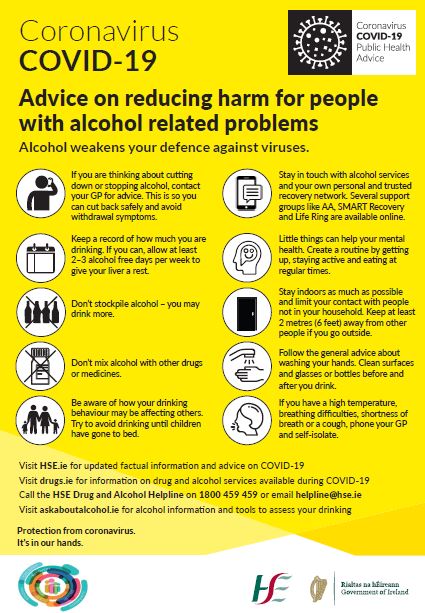 Download alcohol harm reduction poster by HSE and Department of Health here
Download alcohol forum harm reduction information in English and Polish
Alcohol Harm Reduction for Third-LevelStudents
Get harm reduction advice specifically for third-level students developed by the HSE and Union of Students in Ireland here
Information and Support
Get factual information about alcohol from the HSE website Ask About Alcohol.ie
If you are concerned about your own or someone elses alcohol use you can freephone the HSE Drug and Alcohol Helpline on 1800 459 459 Monday - Friday 9:30 am - 5:30 pm or email helpline@hse.ie
Find a local drug and alcohol support service in your area during COVID-19 here
Find a family support service here