Naloxone
What is Naloxone?
Naloxone is prescription medication used to reverse the effects of opioid drugs like heroin, morphine and methadone if someone overdoses. It only works for these types of drugs.
It is recommended by the World Health Organisation for the treatment of opioid overdose cases. Within minutes, it reverses the effects of opioid overdose.
It is available as an intramuscular (injection) or intranasal (a spray for the nose).
It is not a cure but can help to keep a person alive until an ambulance arrives. Emergency services in Ireland can use naloxone if someone has overdosed. It could also be used by family members, peers and staff in drug and homeless services if they have received training.
The Coronavirus (COVID-19) pandemic
It is a new virus so we are still learning about how to respond in relation to people who use drugs
People who use drugs may be at increased risk from the illness or overdose as a result of having COVID-19
Opioids, such as heroin, slow down and can stop a person from breathing. Because COVID-19 can cause breathing difficulties, there may be an increase in the risk of overdose for people who use heroin.
Naloxone and Covid-19
Protect your personal safety. Those who will use naloxone in response to an overdose situation should be extra cautious during this time to protect themselves and others
As we continue to learn more about the virus and how it is transmitted, people should consider the use of intramuscular naloxone (injection) as an alternative to intranasal administration during this time
If administering naloxone , it is recommended that personal protective equipment (PPE) is worn
If naloxone is used, please ensure the correct disposal is in place and items are put in a sharps bin, as per normal practice. It is recommended that intranasal products are sealed in bags in advance of disposal in sharps bin
Important changes: Overdose response, CPR and the COVID-19 outbreak
If you are trained in responding to an overdose and providing naloxone, it's important that you follow the latest guidance from the HSE during this time.
This information may change as we learn more about the virus.
During this time, we ask the following;
DO
Protect your personal safety
Treat every case as if there is a risk of COVID-19 transmission. For your own protection and to protect others
Get personal protective equipment (PPE). It is recommended to wear gloves, an apron, a face mask and goggles when responding to overdose
Watch for visual sign of breathing – by looking at the persons chest rising
Apply a surgical mask to the person -this is to help reduce the risks of possible transmission during CPR. If used, apply surgical mask over oxygen.
Provide CPR but with chest compressions only. Remember, chest compressions could make a person cough or vomit so it is important to have protective equipment
Use a Bag Mask Valve (BMV) fitted with an appropriate viral filter can be used if trained and with access to one.
Know your Eircode – ask for this if you are in new accommodation
Wash your hands for 20 seconds after contact with the person and ensure the area is cleaned
Watch how to correctly put on and take off personal protective equiptment HERE
DON'T
Don't listen of feel for breathing - don't put your ear or cheek to the persons face
Don't provide mouth to mouth or mouth to mask with the person or use a pocket mask
HSE poster 'Guidance on CPR in Community Assessment Hubs' can be downloaded here
Responding to an overdose during the COVID-19 pandemic
1. Look out for the signs of overdose – blue lips/nails, dizziness, confusion, choking, gurgling sounds, snoring, shortness in breaths, no breathing, cannot be woken
2. Call for help – get a staff member or call 999/112 providing the EirCode of the location and wait with the person until help arrives. At this point it is advisable to put on PPE
3. Check the persons breathing - look at their chest movements to see if they are breathing. Don't put your face or ear near theirs
4. Apply personal protective equiptment to yourself - googles, gloves and an apron
5. If the person is breathing
Apply a surgical face mask to the person
Put them in the recovery position
Administer naloxone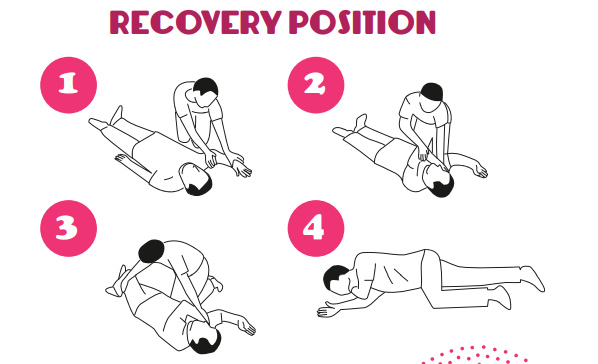 5. If the person is not breathing
Apply a surgical face mask to the person
Provide 30 chest compressions at a time without rescue breaths
Put the person in the recovery position
Administer naloxone

6. Wash your hands and don't let others into the area until cleaned
After contact with the person wash your hands with soap and water for at least 20 seconds at the earliest opportunity. Alcohol hand gel is recommended if soap and water is not available.
Avoid touching your mouth, eyes or nose, unless you have recently cleaned your hands after having contact with the individual
UISCE resource: How to Respond to an Opioid Overdose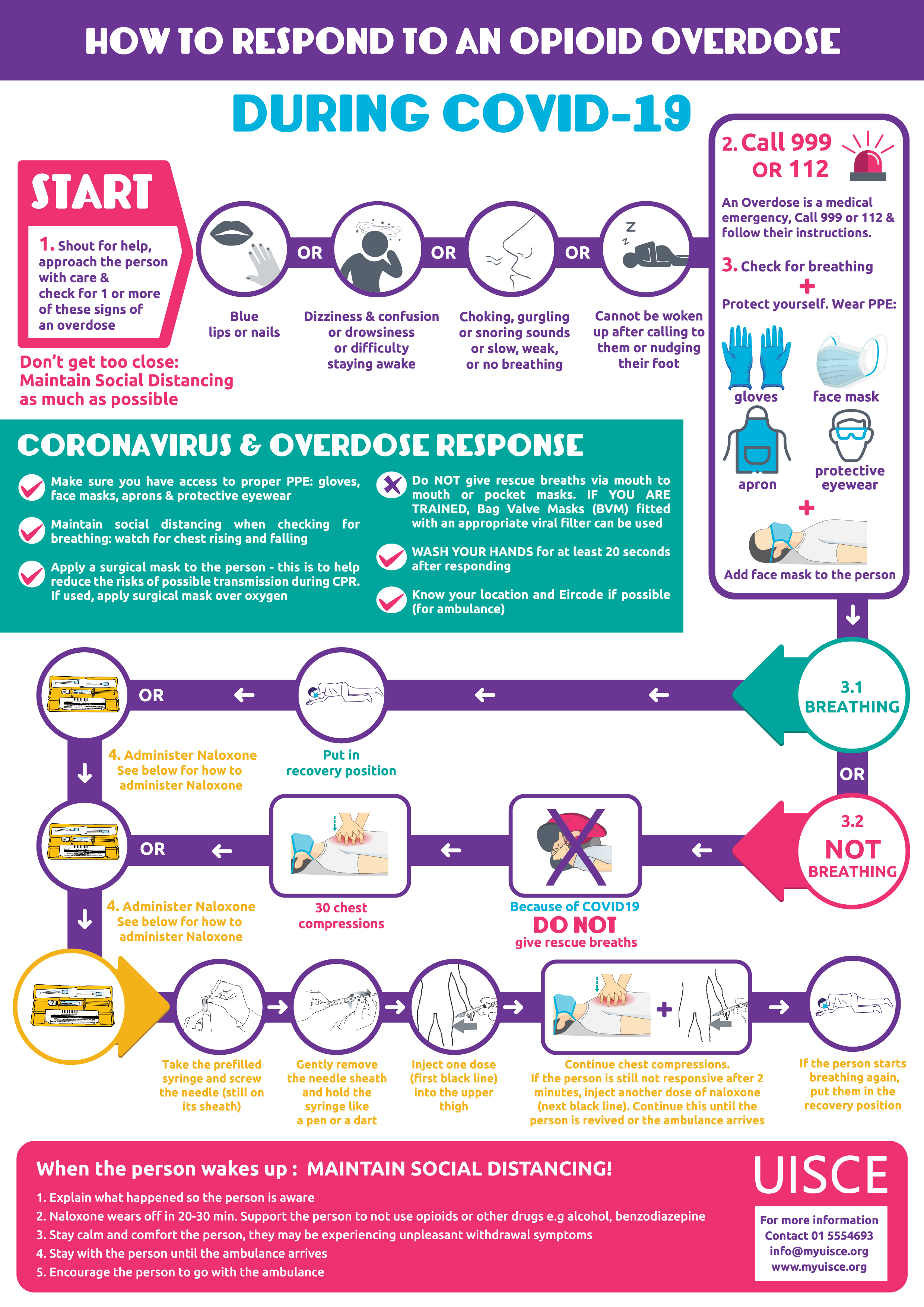 Administering intramuscular naloxone step by step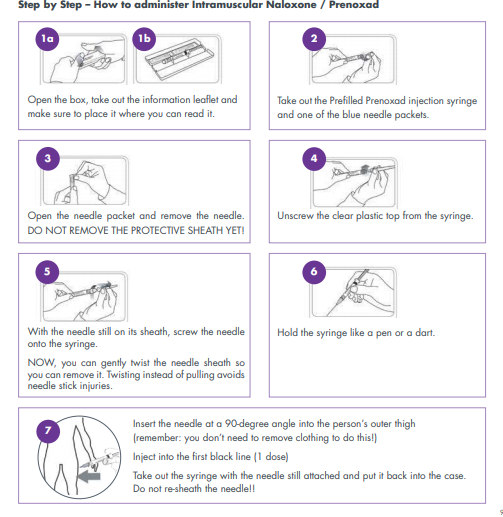 Overdose, Naloxone and CPR resources
CPR Guidance for confirmed or suspected COVID-19 in Community Assessment Hub Resource / Poster
HSE National Social Inclusion Office Overdose Response and Naloxone Guidance during the Coronavirus (COVID-19) Pandemic download
Ethical considerations for PPE use by health care workers advice
UISCE poster ' How to respond to an opioid overdose during COVID-19' in English , Portuguese, Lithuanian, Latvian, Polish, Russian
Download image 'How to administer intramuscular naloxone step by step' HERE
Overdose information for people who use drugs can be found here
Overdose and OST information for professionals
Thank you to UISCE for the use of their images.
Naloxone Demonstration Project: Training Videos.