Mortality amongst the homeless population in Dublin
Background
New research into deaths among the homeless population in Dublin has been published by authors Dr. Jo-Hanna Ivers & Professor Joe Barry from the Institute of Population Health Trinity College Dublin .
The study aimed to address the lack of definitive information about the numbers who have died as well as identify the main causes of death among the homeless population in Dublin.
A collaborative approach was taken across multiple agencies including Dublin hospices, the Health Service Executive, the Dublin City Coroner, the Institute of Population Health Trinity College Dublin and the Dublin Regional Homeless Executive.
Homelessness and health
The study highlights that homelessness is a serious public health concern for service providers, policymakers as well as for homeless individuals and their families. Homeless people suffer high rates of physical disease, mental illness, and substance misuse.
Homelessness can greatly impact on a person's physical and psychological health. According to the 2011 Census report, one third of the homeless population reported having fair, bad or very bad general health. The longer a person is homeless, the more likely it is that they will suffer from a medical condition. People that are frequently homeless are far more likely to experience greater rates of chronic disease, and mental illness.
Homeless individuals also experience high rates of addiction compared to the general population. Addiction is commonly a factor for, or a result of, homelessness.
Research results
The study found that;
- 343 homeless people died in the Dublin region between 2005 and 2015
- Drug and alcohol intoxication was the most common cause of death
- Drugs and alcohol were implicated in 57% of all deaths
- Homeless people are more likely to die of overdose with opioids accounting for the majority of drug-related deaths
- Deaths were higher among men (n=263/76.7%)
- The average median age at death was 42 years old
- Deaths among homeless males were 3-10 times higher than Dublin men among the general population
- Deaths among homeless were 6-10 times higher than Dublin women among the general population
- The majority of homeless people died in hospital or in a homeless service. Less than 10% of people died outdoors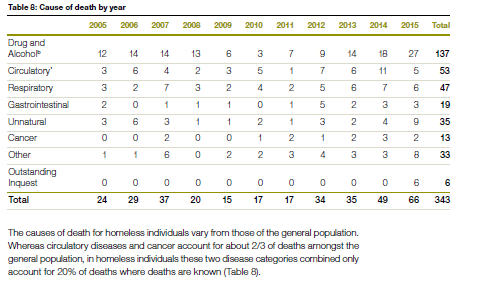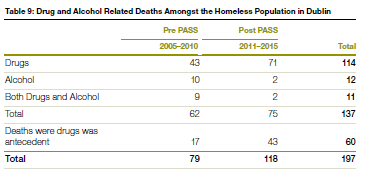 Download the full study here
BMJ Open - 'Five-year standardised mortality ratios in a cohort of homeless people in Dublin'
Podcast - Listen to Dr Jo-Hanna Ivers from Trinity College Dublin discuss findings on afterning.com
Posted by drugs.ie on 02/15 at 03:31 PM in
Comments