Ballymun Local Drug and Alcohol Task Force Webinar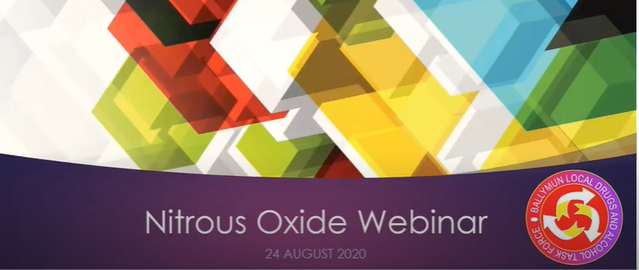 On the 24th of August 2020, The Ballymun Local Drug and Alcohol Task Force (BLDATF) Prevention and Education Sub-Committee hosted a webinar in response to an increase in use of Nitrous Oxide among young people.
Nitrous Oxide is a depressant/dissociative/inhalant type drug and is also known as Laughing Gas, Whippets, Chargers, Bulbs, NoS, N2O, balloons, 'hippie crack'
It is a colourless gas that some say is slightly sweet smelling and tasting. It can be found in different forms such as whipped cream chargers 'whippets' which are small silver cartridges. It can also come as crackers with balloons attached or as balloons that have been filled with the gas.
It is inhaled, sometimes referred to as 'nagging'. Learn more here.
Concern has been raised in some communities, including Ballymun, in relation to young people using this substance, creating a need for localised responses to support staff, young people and communities.
The BLDATF webinar was aimed at professionals working with young people in Ireland and was promoted among those working in drug and alcohol services, youth services, schools, Youthreach, Schools Completion Programmes, Garda Youth Diversion Programmes as well as among Task Force staff and members.
BLDATF developed a resource for support workers providing interventions with young people and their families.Download this resource here - Side 1 and Side 2
The webinar provided an overview of nitrous oxide, the national and local situation as well as harm reduction and best practice responses for prevention and drug education.
You can view this webinar here.
Spakers included:
Dr Suzi Gage, Psychologist, The University of Liverpool
Nicki Killeen, The HSE National Social Inclusion Office
Jimmy Bell, Ballymun Regional Youth Resource
Angela King, BLDATF
We would like to thank BLDATF, particularly Angela King and Dr Laura O'Reilly and hosting an interesting and well-rounded discussion on the topic, as well as Jimmy Bell & the BRYR outreach team for coordinating the local response and resource development.
Learn about the work of Ballymun Local Drug and Alcohol Task Force here. Follow them on Facebook @BallymunLDATF and Twitter @BallymunLDATF
Posted by drugs.ie on 09/21 at 02:41 PM in
Comments