2015 Winners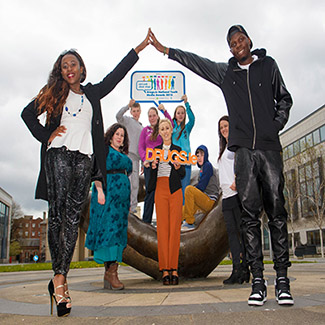 The winners of the "Let's Talk About Drugs Media Awards 2015" were announced on Friday 24th of April 2014 at an awards ceremony in the Department of Education Clock Tower Building on Marlborough Street.
Organised by the Ana Liffey Drug Project's Drugs.ie initiative, the awards were created to encourage the journalists, reporters, film enthusiasts and animators of tomorrow to start writing and talking about the drugs and alcohol issue in Ireland today.
Speaking to young people at the event, Minister Aodhán Ó Ríordáin TD Minister of State with responsibility for the National Drug Strategy said:
"You have been handed down a country with a drug problem and you have been handed down a country with a drink problem and that wasn't your fault. But you have a great opportunity to teach people older than you that you want a different and better country to hand down to your children. So let's work together to make sure we can do that."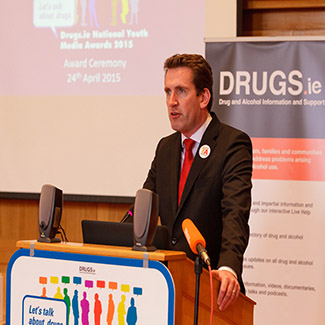 Special guests Ciaran Darcy (Irish Times) and Ciara Kelly (Operation Transformation, Newstalk, Sunday Independent) were in attendance to hand out the prizes alongside Nicki Kileen of the Ana Liffey Drug Project. The overall winner was chosen from the category winners and was presented with a trophy and cheque fro €2,000 from Ruairi McKiernan (founder of youth website SpunOut.ie, campaigner, writer, speaker, and Presidential appointee to Ireland's Council of State).
Below are details of the winning entries.
Overall Winner
The Overall Winner was Blaze Youth Club, Sligo, for their entry "Walk Away" in the Film/Animation 12-14 Age Category

Film/Animation Category Winners
Runner-up: Gateway Youth Project, Co. Westmeath
Film/Animation 15-17 Category
Winner:St Leos College Carlow

Runner-up: Cloyne Diocesan Youth Service
Film/Animation 18-21 Category
Winner: Conor Maguire & Bobby Byrne

Runner-up: Poppin Tree Youth Project, Ballymun
Film/Animation 22-25 Category
Winner :Cherry Orchard Youth Project Ballyfermot
Runner-up: Glenn Griffin
Article Category Winners
Article 12-14 Category
Winner: Darragh Elbel - Download Article
Runner-up: Aoibhe Curley
Article 15-17 Category
Winner: Elle Loughran - Download Article
Runner-up: Ross Cudmore
Article 18-21 Category
Winner: Aine O Connell, Trinity College Dublin - Download Article
Runner-up: Laura Hunt
Article 22-25 Category
Winner: Sarah McGann, Emma McDonnell,Heather Feeney, Roisin Cahill, Trinity College Dublin - Download Article
Runner-up: Lauren Joslin
Audio Category Winners

Audio 15-17 Category
Winner: Mark Mulraney, Gonzaga College Dublin 6
Audio 18-21
Winner: Shankill Youth Project
Poster Category Winners
Poster 12-14 Category
Winner: Natalia Marcjanik
Runner-up: Jack Hayden , St Peters College, Wexford
Poster 15-17 Category
Winner: Sinead Collins Mc Evoy, Oaklands Community College, Offaly
Runner-up: Anna Carlin, St Columbas College Donegal
Poster 18-21 Category
Winner: Sinead Reilly DCU
Runner-up: William Eustace, West Wicklow Youth Reach Blessington