International Overdose Awareness Day 31st August 2022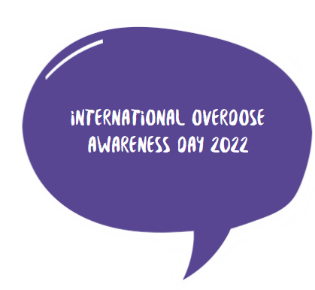 This International Overdose Awareness Day (IOAD) we are collaborating with the HSE National Office for Suicide Prevention, the Department of Health and Addiction & Advocacy Services, to host an online event on Wednesday the 31st of August, from 11:00 – 12:00, as part of the world's annual campaign to raise awareness about overdose, those who have died and to acknowledge the grief of the family and friends left behind.
The campaign raises awareness of overdose and promotes action and discussion about evidence-based overdose prevention.
The theme for 2022 is Time to Remember. Time to Act. A panel of expert speakers will discuss this year's sub themes of Overdose & Drug Use in the Female Population and Stimulant Overdose.
As part of the 2022 activities, we want to capture messages from people who use drugs, service providers, families and local communities. To do this, we ask people to download an IOAD speech bubble to share their personal message, experience or opinion on the topics of overdose and related stigma. Posters and badges have also been provided to services nationally, to enable awareness raising at a local level.
Share your IOAD message over social media, using the #EndOverdoseIRL, #IOAD2022 and #ReduceTheHarms and follow & tag @drugsdotie, @HSELive and @HSE_SI.
Download Presentations from the 2022 IOAD Webinar
Prof Eamon Keenan, HSE – Harm Reduction & Drug Monitoring in the Irish Context
Dr Sarah Morton, UCD - 'Trauma and trouble': how can we intervene earlier in women's lives?
Paula Byrne, MQI – Overdose & Drug Use in the Female Population
Isabelle Giraudon, EMCCDA – Stimulant Use & Overdose – European Perspective
Dr Deirdre Mongan, HRB – Stimulant Use & Overdose – Irish Perspective
Download IOAD Speech Bubble Poster & Social Media Backgrounds
Download our speech bubble posters
Download social media backgrounds for your accounts
Irish Syringe Analysis Pilot Project 2022
Download this review here
Naloxone Administration by Addiction & Homeless Service Providers in Ireland:2018-2020 Drug Insight Report 2
Download this report here
Download the report infographic here
See further information on Drugs.ie here
IOAD Resources
Learn about International Overdose Awareness Day here
Get overdose prevention resources here
Get information on the latest trends of concern here
Posted by drugs.ie on 08/25 at 09:24 AM in
Comments