SAOR 2nd Edition: Screening and Brief Intervention for Problem Alcohol and Substance Use
SAOR 2nd edition
The HSE National Social Inclusion Office has launched the second edition of SAOR: Screening and Brief Intervention for Problem Alcohol and Substance Use.
SAOR intervention
The four principle aspects of the SAOR intervention are (a) support; (b) ask and assess; (3) offer assistance; (d) refer.
Launch event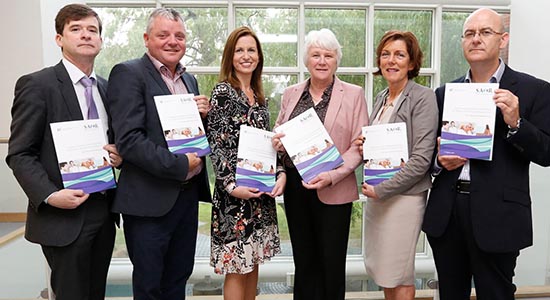 Pictured at the launch event in St James Hospital are Dr Eamon Keenan, National Clinical Lead-Addiction Services, HSE; Paul Goff, Substance Misuse Lead, HSE; Ruth Armstrong, National Social Inclusion Office, HSE; Minister Catherine Byrne TD; Dr Ide Delargy, ICGP Substance Misuse Programme; James O'Shea, Office of Nursing and Midwifery Services.
SAOR training
Since 2012, the SBI project has coordinated the national roll out of a one-day SAOR SBI training programme for alcohol and substance use in partnership with the National Addiction Training Programme (NATP).
To date, approximately 3,500 service providers across all tiers have been trained and a SAOR train the trainer programme has provided over 100 trainers nationally since 2013.
The roll-out of the SAOR train the trainer programmes and training is supported by partners from local drug and alcohol services, drug and alcohol task forces, the community and voluntary sector and in some areas by health promotion and improvement staff, centres of nursing and midwifery education and other statutory health services.
Learning from the previous framework SAOR II builds on the original framework; it builds on the learning and understanding from delivering interventions and training workers in a diverse range of settings including acute care settings, mental health services, child and family, community-based drugs services, homeless agencies, primary care services, third level colleges, criminal justice, youth and sporting organisations.
Refining the model
Working and training with a variety of health and social care workers with differing skills and competency levels has enabled us to refine the model to ensure its applicability in a range of not only health and social care but also social and recreational settings. The publication draws from and adds to the significant evidence and policy base that exists for screening and brief intervention.
SAOR guide for practice
SAOR II offers a step-by-step guide for practice, to guide workers in using a person-centred approach throughout their conversation, encounter or engagement with a service user.
SAOR II supports workers from their first point of contact with a service user to enable them to deliver brief interventions and to facilitate those presenting with more complex needs with entry into treatment programmes as per the National Drug Rehabilitation Framework: National Protocols and Common Assessment Guidelines (2011).
Further information
If you have any queries on the publication or on SAOR training please contact Nicola Corrigan, National Social Inclusion Office at nicola.corrigan@hse.ie
Download SAOR
Download SAOR: Screening and Brief Intervention for Problem Alcohol and Substance Use
Posted by Andy on 06/12 at 01:53 PM in
(0) Comments
Comments