Overdose Videos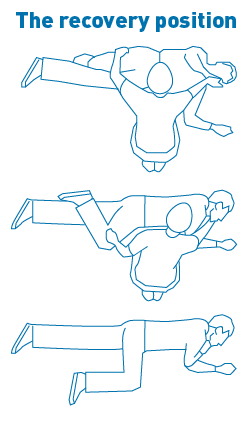 Information: Risk factors
An overdose means having too much of a drug (or combination of drugs) for your body to be able to cope with.
Some behaviours are more risky than others.
Overdose risk factors include:
Using more than one drug
Injecting drugs
Using alone
Using drugs after a period of abstinence
Mind yourself. It is always safest not to use drugs.
If you do use:
Don't use alone
Only use one drug at a time
Wait as long as possible between hits
Be ready for overdose.
Know what to do and make sure your friends do too:
Put the person in the recovery position
Call the ambulance on 112
Wait for the ambulance to arrive
Naloxone Project
Naloxone is an antidote used to reverse the effects of opioid drugs like heroin, morphine and methadone if someone overdoses.
Click here for more information on Naloxone and the HSE Naloxone Project
Video: Going Over (on heroin)
Poster: Overdose prevention (injecting drugs)
Click the image to download an A4 version of the poster.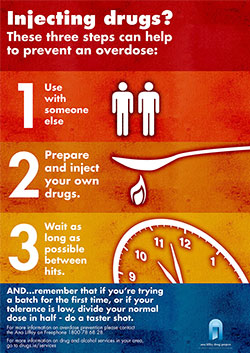 Policy: Overdose policy for services
The drugs.ie website houses a library of policy templates for drug and alcohol services. The policies have been reviewed and informed by industry leaders from the health and commercial sectors. This library contains a template overdose policy. The purpose of the policy is to outline a standard process for staff to follow if they suspect an overdose. To ensure preventative measures are in place to reduce the risk of overdose to the service user group.
Visit the Policy Template Library

International Overdose Awareness Day
Overdose International Overdose Awareness Day (IOAD) is a global event held on August 31st each year and aims to raise awareness of overdose and reduce the stigma of a drug-related death.
HSE Overdose Videos
Will Carroll Family Support Worker
Service Users experience of witnessing a drug overdose
Joan Byrne Co-Ordinator of CityWide Drug Crisis Campaign
Lynn Ruane President of Trinity College Students Union
The personal impact of Drug Overdose
Impact of drug overdose on the individual
Impact of witnessing a drug overdose